Top 10
Business Awards in India
In India's dynamic and competitive business landscape, recognition through prestigious awards holds immense value. Among the plethora of accolades, the Top 10 Business Awards in India stand out, honoring exceptional achievements and applauding industry leadership. Notable among them are the Brand Empower's Global Excellence Awards (GEA), Industry Leaders Awards (ILA), and National Quality Awards (NQA), representing the epitome of trust in the business community.
Brand Empower's initiative in curating these prestigious award events aims to inspire and encourage businesses across sectors to strive for excellence. By honoring accomplishments and innovations, these award ceremonies provide a platform to showcase success stories and best practices. The awards celebrate the nation's finest companies, entrepreneurs, and professionals, fostering healthy competition, driving innovation, and inspiring future generations.
Embracing these awards not only solidifies a company's reputation but also enhances its brand empowerment, signaling trustworthiness and credibility within the industry. For businesses striving to reach new heights of success, these prestigious awards serve as beacons of excellence, motivating them to push their boundaries and make a significant impact on India's thriving business landscape.
Successful Talk Shows
Our host interacts in talks or interviews, to result in meaningful discourse.
Professional Team Works
We work together efficiently and professionally towards a common goal.
1000+ Happy Clients
We promise to deliver the best services to our clients to meet their expectations.
GEA, ILA, NQA Awards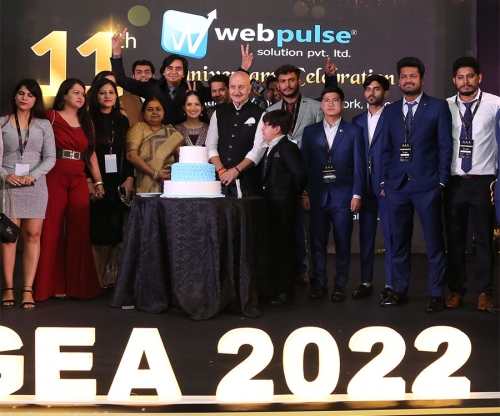 Brand Empower, a renowned leader in the corporate events, proudly presents the Global Excellence Awards (GEA), the Industry Leaders Awards (ILA), and the National Quality Awards (NQA). These distinguished events have earned a reputation for celebrating excellence, innovation, and outstanding achievements across various industries.
The GEA, known as the Best Business Award Event in India, recognizes companies that have demonstrated exceptional growth, leadership, commitment to excellence and sustainability in the business world. 
ILA, the Best Industry Award Ceremony in India, is a platform dedicated to honoring brilliance within specific sectors. From manufacturing to technology, healthcare to finance, the ILA Awards acknowledge the contributions of industry leaders, pushing boundaries and setting new benchmarks in their respective domains.
The NQA Awards, another esteemed event organized by Brand Empower focuses on organizations that have consistently delivered outstanding quality and service, making them the epitome of reliability and customer satisfaction.
With an esteemed panel of judges and a rigorous selection process, the GEA, ILA, and NQA Awards have become the epitome of recognition in the Indian corporate landscape. By recognizing exemplary businesses and industry pioneers, these events continue to inspire excellence and foster healthy competition within the nation's business ecosystem.
Recognition by Brand Empower for your Excellent Entrepreneurship
Celebrate your entrepreneurial success with the ultimate acknowledgment from Brand Empower's prestigious corporate award events. Our prestigious award events, GEA, ILA & NQA are designed to recognize exceptional entrepreneurs like you who have demonstrated outstanding leadership, innovation, and growth.
Receiving Recognition by Brand Empower for your Excellent Entrepreneurship means joining an elite league of distinguished business visionaries. This recognition is not only an acknowledgment of your hard work and dedication but also a catalyst for further success. Your achievements will be highlighted on a global stage, allowing your brand to gain unparalleled exposure and credibility in the industry.
Our meticulous selection process ensures that only the most deserving candidates receive these accolades, making your recognition all the more prestigious. So, don't miss this chance to elevate your brand to new heights and be a part of our esteemed community of outstanding entrepreneurs. Submit your nomination now and let the world recognize your entrepreneurial excellence!