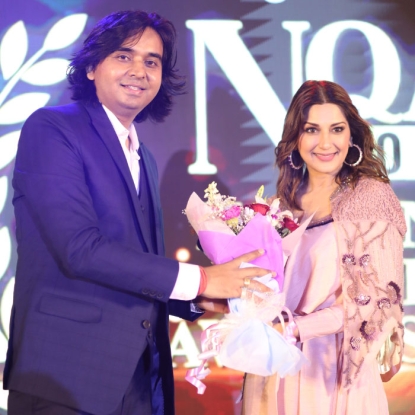 Brand Empower proudly organises the prestigious National Quality Awards annually, a hallmark event that celebrates excellence in various domains. The National Quality Awards by Brand Empower serve as an inspiration and motivation for individuals to aim for greatness. The awards not only celebrate individual excellence but also encourage others to pursue quality and innovation in their fields. The National Quality Awards brings together prominent personalities, leaders, and influencers, creating a dynamic networking hub for like-minded individuals. The NQA Awards are not just an accolade; they are an inspiration to countless others, motivating them to strive for excellence and make a positive impact on their communities and beyond.
National Quality Awards Editions:
NQA 2023 1st Edition (Mumbai): Guest of Honor - Mrs. Sonali Bendre
NQA Award Nomination Process
The NQA Award Nomination Process is a crucial step in recognizing outstanding individuals across various business domains. To participate in this process:
Visit the official website of Brand Empower or NQA to access the nomination form. 
Experts shortlist candidates based on their exceptional skills in their fields.
Selected candidates receive award titles, categories, participation fees, and copyright documents. 
The prestigious NQA Awards ceremony honours outstanding contributors.
PR and branding activities help award winners spread their success and accomplishments.
Stay tuned for updates on the NQA Awards winners list and the full show, as Brand Empower continues to recognize and celebrate exceptional talents across the nation, inspiring a culture of quality and innovation.